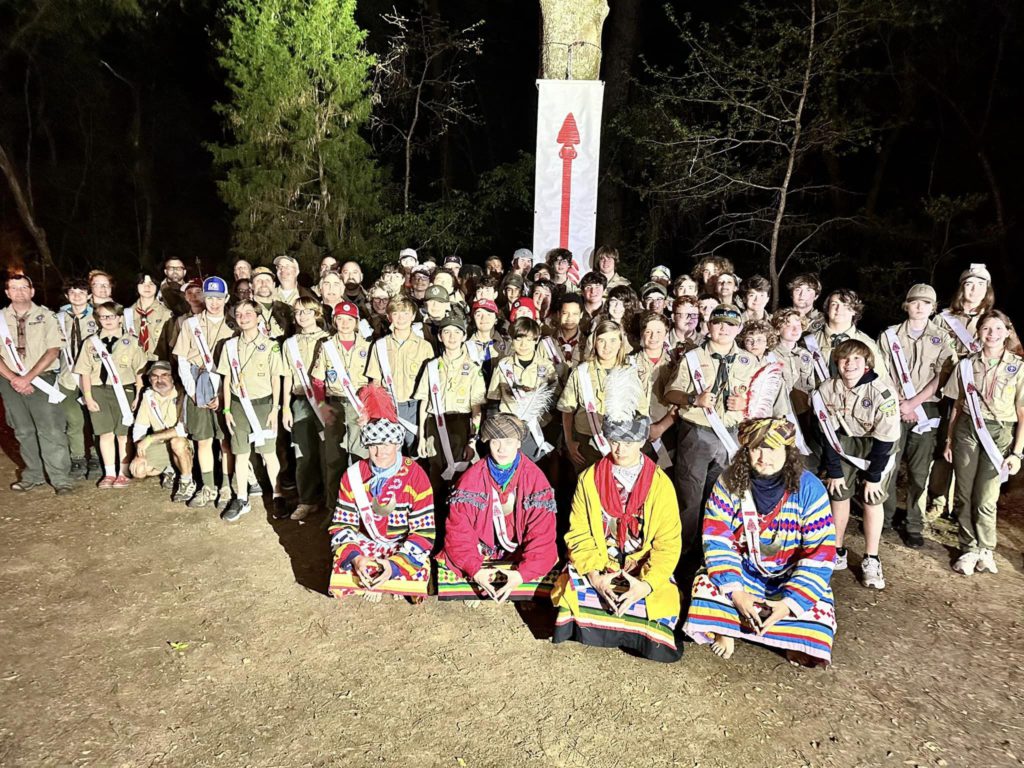 Spring Fellowship
Spring Fellowship is usually held middle to late February. At this function, we have informative training, fun games and activities, and a cookout.
Spring Ordeal
Spring Ordeal is usually held in late May. At this function, we welcome in new brothers into our Lodge, as well as offer a Brotherhood ceremony. We have many work projects going on throughout the weekend to prepare camp for Summer Camp. Some projects include setting up tents, trail clearing, ditch clearing, and other general camp maintenance.
Fall Ordeal
Fall Ordeal is usually held the second weekend in September. At this function, we welcome all the new Arrowmen into our Lodge who have been elected into the OA. We also offer a Brotherhood ceremony at this event. During this event, we prepare our camp for all the fall events that take place there. This includes Cub Haunted, Fall Fellowship, and Winter Camp. Some projects that happen are trail clearing, ditch clearing, and general camp maintenance.
Fall Fellowship
Fall Fellowship is usually held the first weekend in December. During Fall Fellowship we start off the weekend with our Annual Oyster Roast and Seafood Fest. Following the seafood, we have our opening show. After the show, we have our Vigil Dedication Ceremony, where we remember the legacy of servant leadership that some brothers have left to us. Following the Dedication Ceremony, we hold our annual Vigil Call Out, where we recognize the brothers of our lodge who have made distinguished contributions beyond the immediate responsibilities of their position, office, the Lodge, the Order of the Arrow, Scouting, and their camp, by reason of exceptional service, personal effort, and unselfish service.
We kick things off Saturday with some fun and informative training, followed by fun games and activities throughout the day. We also hold a Brotherhood Ceremony for those members that are ready to seal their membership. We wrap things up Saturday night with our Annual Lodge Recognition Banquet, were we recognize the accomplishments of our lodge and the Arrowmen who have gone above and beyond in cheerfully serving our Lodge. During the banquet, we recognize the Founder's Award Recipients, Vigil Honor Recipients, Service Award Recipients, Unit of Excellence Recipients, and our new Brotherhood members.
Following the banquet, we hold our Annual Patch Auction. Any youth interested in running for a Lodge Officer Position, must have a signed petition turned into the Lodge Advisor by the start of the Patch Auction, Saturday night